2016 American Marblehead Racing:
American M Class Race # 7 8-27-16
5 Skippers raced on Sunday 8-27-16 and after 12 races, the results were:
Classic Division:
Name Fleet Race Points Division Place
John Skerry 17 1st
Jack Woods 32 2nd
Rick Gates 49 3rd
High Flyer Division:
Name Fleet Race Points Division Place
Thom McLaughlin 53 1st
Traditional Division:
Name Fleet Race Points Division Place
Biff Martin 25 1st
Alain Jousse 62 2nd
Modern Division:
No Boats

Next American M Race is on Saturday September 24th
Craig Speck
MMYC Secretary/Treasurer
2016 American M NCR 06/25 & 26/2016
By John Snow
Fourteen skippers competed in twenty-eight heats over the weekend of June 25 and 26 in the second American M NCR at Redd's Pond, in Marblehead, Massachusetts. There was steady NE sea breeze on Saturday with similar on Sunday, under sunny skies with temperatures from high 70s to low 80s. John Snow and Judy Skerry from the host Marblehead MYC were RDs on Saturday and Sunday respectively, with Sue Martin on Saturday as scorekeeper. There were four M design categories for awards: International (IN) Ms 1991 to present, Classic (CL) Ms 1971–1990, High Flyer (HF) VMs 1946–1970, and Traditional (TR) VMs 1930–1945. Final scores below reflect two throw-out heats per skipper. Skippers traveling the greatest distances were Ken Young from Chicago, IL and Doug Hemingway from Buffalo, NY.
One might surmise that this M 50-800 design lineage covering 85 years would mean more advanced M boats chronologically had greater inherent performance capabilities and would generally finish above their older racing brethren. All skippers were in one fleet, allowing RDs to maximize number of race heats. For award purposes, plaques were presented to "top two" skippers within each design category as shown by point's total. Using example from the results summary, International M skippers were scored under "IN" design designation with following number identifying their placing in this grouping.   
Stan Goodwin with 1990s Pinter 2.5 IN M (swing rig) was dominating regatta skipper winning 13 heats. Biff Martin was second with 2000s Pinter 3 IN M capturing five heats. Third place was hotly contested with just two points separating four skippers racing a mix of IN, CL and HF models. Winning skippers by design: Stan Goodwin - International M, John Skerry - Classic M, Herb Dreher - Vintage HF M, and Eddie Wolfe - Vintage TR M. Eddie also defied rule of design group / building date and placing. He won three heats with his 1930s Madcap TR VM racing against boats having later chronologic dating. Later M designs using composite materials also normally equated to much lighter gross weight.     
Summary of 2016 American M NCR
Class: International, Classic & Vintage Marblehead Designs (86 years of design evolution)
Date: June 25 & 26
Location: Redd's Pond, Marblehead, MA
Host Club: Marblehead MYC
Entries: 14
Winds: Variable NE Breeze Saturday & Sunday
Races Completed: 28
Scoring System: Low Point
Regatta Committee & Valuable Assistants: John Snow and Judy Skerry as RD's and Scorekeeper, Sue Martin
American M NCR Results by Design (IN, CL, HF & TR)
Place         Skipper                     Points             Design
Traditional Vintage 1930-1945
1          Eddie Wolfe                 184           Madcap
2         Cliff Martin                   214           Iduna
3         Alain Jousse                 283           110 Delta Mod
High Flyer Vintage 1945-1970
1        Herb Dreher                  167                      Sunwind
2      Jim Linville            179                  Riptide
3         Thom McLaughlin       271           Awanadjo
Classic 1970-1990
1         John Skerry                   166           Spot
2          Tom Hayden                167           Rolling Thunder
3           Ken Young                 171           Bingo
4        Doug Hemingway         231           Toad
International 1990-Present
1           Stan Goodwin       75      Pinter 2.5
2           Biff Martin            117       Pinter 3
3          Rick Gates                168        Pinter 2.5
4         Jack Woods                223       UK Starker's
2016 American M Region 1 Championship Results 05/22/2016
On Sunday, May 22nd, 4 divisions of the American M class raced 16 heats to determine Region 1 Championship for each division.
There were 6 boats in the Classic Division, 2 Boats in the VM Hi-Flyer Division, 1 in the VM Division, and 1 in the Modern Division.
All boats started together in winds from the NNE at a velocity of 6 to 10 Knots. Trophies were awarded for 1st & Second in Classic Division, 1st in the Modern, VM-HF & Vintage M divisions. The American M Class does not award of the fleet overall positions.
Final results and fleet position were:
Division: Boat Design: Division Place: Overall Class Place: Total Points Overall:
Classic
John Skerry Spot 1 1 21 pts
Tom Hayden Rolling Thunder 50 2 3 32 pts
Cliff Martin Epic 3 4 46 pts
Jack Woods Eclipse III 3 4 82 pts
Norm LeBlanc Magic Dragon III 5 9 103 pts
Herb Dreher Epic 6 10 137 pts (DNS 12 races, mechanical)
Modern
Biff Martin Pinter 2.5 1 2 29 pts
VM-HF
Jim Linville Riptide 1 5 66 pts
Thom Mclaughlin Awanadjo 2 8 101 pts
Vintage M
Alain Jousse Modified 110 1 7 97 pts
A reminder, the American M National Championship on the 24th, 25th, & 26th of June at Redd's Pond in Marblehead, MA. NOR will be out this week.
Craig Speck
Secretary & Treasurer, MMYC
speckjc@verizon.net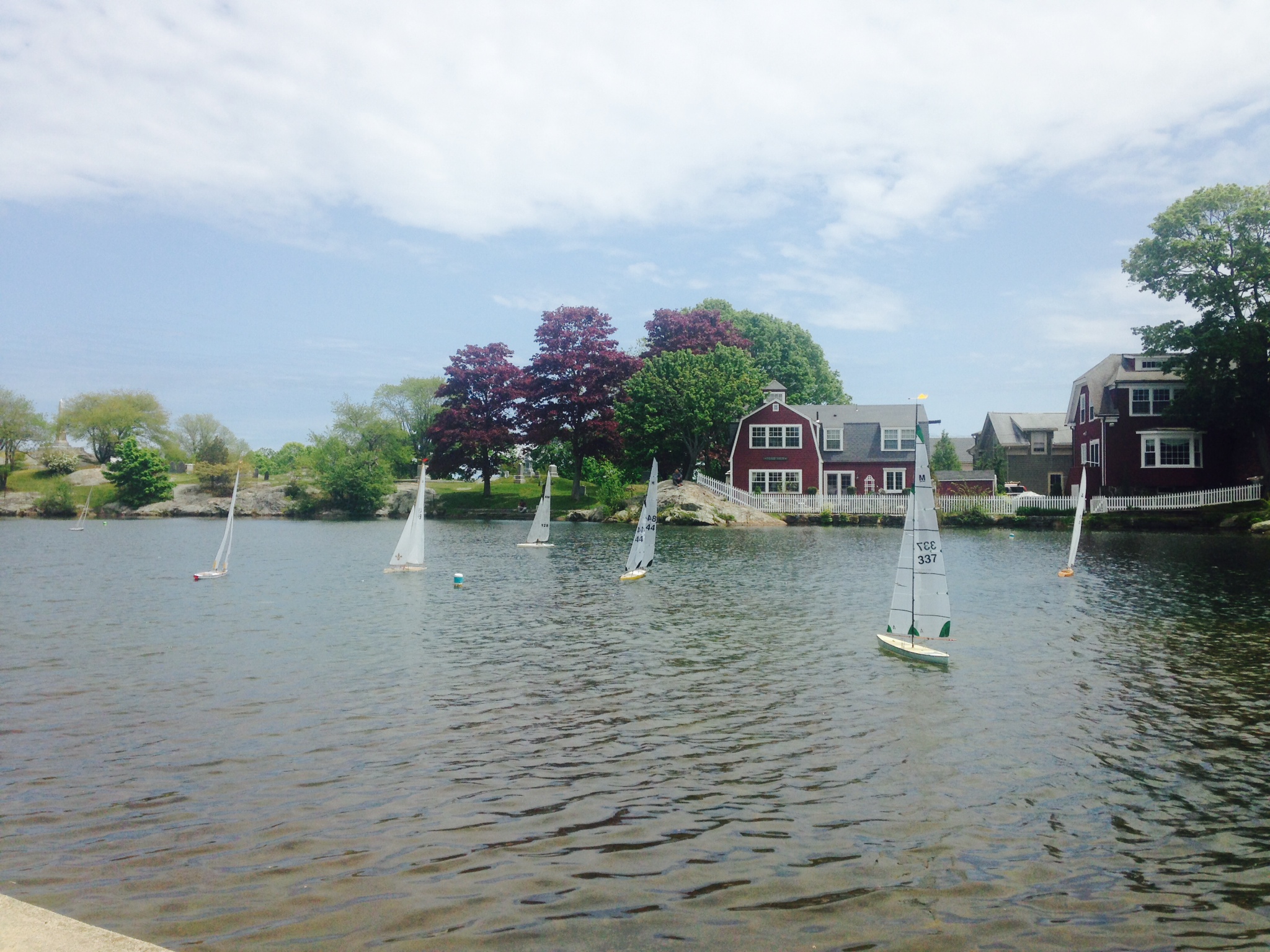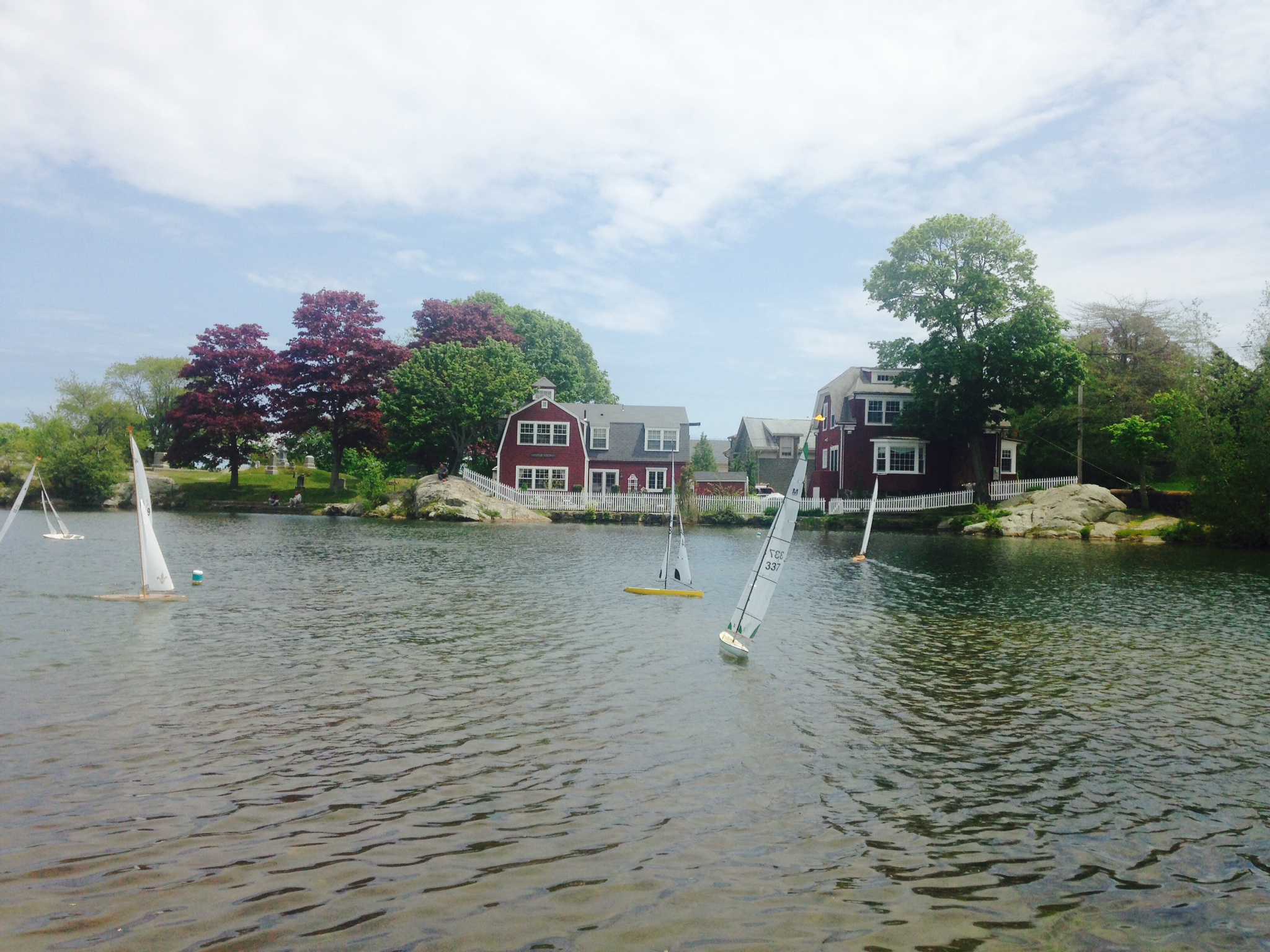 American M RAce # 2 on 5/14/16 Results
5 boats raced 11 Races on Saturday. All boats were in the classic M division.
Results for the day with 2 throw outs being incorporated were:
Tom Hayden 14 Pts 1st Place
John Skerry 22 Pts 2nd Place
Biff Martin 24 Pts 3rd Place
Rick Laird 32 pts 4th Place
Jack Woods 34 Pts 5th Place
Next American M Event is the AMerican M Regional Championship on this coming Sunday 5-22-16 starting at 9:30 AM
You may register and pay the entrance fee at the club on Sunday morning. However, we do ask that you please let us know by Friday mid day that you are coming so that we can procure the appropriate amount of food and beverages that are needed.
Craig Speck
Secretary & Treasurer
Marblehead Model Yacht Club
American M Class 2016 Race #1 (04/09/2016)
6 Sailors braved the temperature forecast and predicted high winds to participate in the first race of the season for the American M class. Low temperatures and wind gusts in the 10 to 15 provided for lively action on the course.
After 13 races the results were:
For the fleet;
Biff Martin (Mod) 16 Pts (Note both had 6- 1sts, 6-2nds and 2 3rds)
John Skerry (CL) 16 Pts (Note both had 6- 1sts, 6-2nds and 2 3rds)
Eddie Wolf (CL) 30 Pts
Jack Woods (CL) 48 Pts
Rick Gates (Cl) 54 Pts
Alain Jousse (V) 54 Pts
In the American M Class, different generations of Marblehead boats are also scored within their respective division. The Groups identified above are V(Vintage), CL(Classic), and Mod( Modern). In addition there are also Vintage High-Flyers(VM-HF) and MarbleHead 50/800 boats that have sailed in the class events. AT season end, there will be awards presented to the division winners who have sailed in at Least 60% of the season races.
Division results for 1st race of the season. follow:
Modern Biff Martin 1st
CLassic John Skerry 1st
Eddie Wolf 2nd
Jack Woods 3rd
Rick Gates 4th
Vintage M Alain Jousse 1st

American M Class rules are available on our club website mmyc.us or at the AMYA website.
All versions of Marblehead models that conform to the class rules are invited to sail in these club races. Although not required to sail in these races, it is encouraged that racers consider joining the class with one time membership fee of $7. ( Note, since the American M is a recognized AMYA class, you must be a member of AMYA to join the class)
As a footnote, the Marblehead Model Yacht Club is hosting the American M Region 1 Championship Regatta on May 22nd and the American M National Championship Regatta on June 25th and 26th with practice races on Friday Afternoon, June 24th. NOR will be forthcoming. AMYA membership is a requirement to sail in Regional and National Championship Regattas.
If you desire additional information about the class, contact either Biff MArtin or John Skerry.
Craig Speck
Secretary & Treasurer, MMYC
speckjc@veriizon.net