Building on these M 50-800 and MMYC activities, the decades of the 1930s to the 1970s saw the M Class and club mature together at the local and national levels. Typical of the MMYC original development role, club members introduced several key M design refinements:
Sliding sail rig concept for models by Sid Doane (1930s)


National and world champions "Cheerio" M model series by John Black (1930s)


Advanced "Broom" M winning designs by J. Selmar Larsen (1930s to 1940s)


Lightweight vane gear steering mechanism by Bill Full (1940s to 1960s)


Tall sail rigs and "Warrior" M champion models by Stan Goodwin (1960s to 1970s)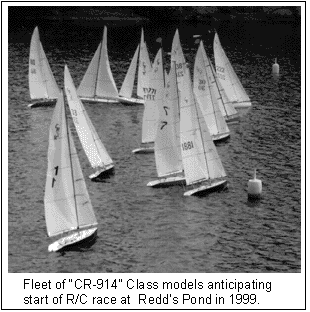 Consequently, the liberal design rules of experimental sailing models and the evolution in state-of-the-art building materials and sailcloth have provided a nurturing environment for MMYC skippers to develop fast models and to hone their racing skills.
After 100+ years, model yachts are still being tested and raced on the waters of Redd's Pond. Skippers nowadays compete in four R/C classes: entry-level CR-914 models, vintage and contemporary M models, and large J Boat models.
Continuing the legacy of their predecessors, MMYC members remain at the forefront of model yachting by distinguishing themselves in championship races and management on the national scene within the American Model Yachting Association (AMYA). Current members serve as AMYA class secretaries for three different models and another has been national champion four times.
The 100th birthday of organized Marblehead model yacht racing in 1992 was testimony to the forward-thinking organizers, designers, builders and skippers that have been involved in both the MMYC and the sport in America during the last 100+ years.