Organized model yachting in Marblehead marked its Centennial in 1992. The longevity of the sport at Redd's Pond can be attributed to the two groups that have actively supported it - Marblehead Midget Yacht Club (1892 to 1925) and Marblehead Model Yacht Club (1925 to present). Redd's Pond became an excellent venue for model boats when it was deepened as a Town fire-fighting reservoir in 1880s. Their common philosophy has been to: 1) foster innovation in sailing models through the creation and racing of unique designs, and 2) promote the wholesome benefits of model yachting.
As a result, competitive model racing at Redd's has grown its own cadre of skilled sailors, young and old, as part of the yachting heritage of Marblehead. A lasting product of their efforts is the revolutionary model design named after the Town, the Marblehead 50-800 Class or M 50-800, and the worldwide popularity it has enjoyed since its inception in 1930. It is fitting to retrace the origins of the sport in Marblehead and its links to the MMYC and M 50-800.
Click on one of the links below to read more of the Club's history: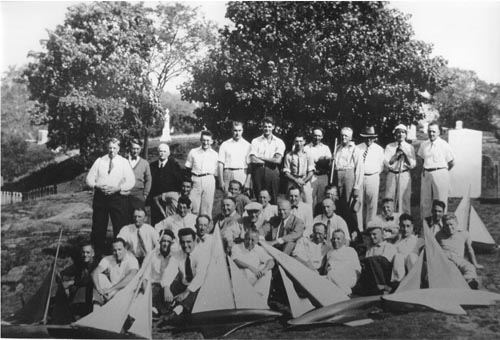 MMYC Members in 1936 with M Class Models.