The popularity of the 450 Class during the 1920s and the innovative nature of club members provided the creative foundation for another developmental model to emerge with better sailing capabilities. In late 1929, Mr. Roy Clough, a charter MMYC member, conceived an idea for a new class of longer models with a properly scaled sail plan. It is thought its origins were rooted in the flexible designs of the 450 Class. One known design factor was a physical size and weight for a model ideal for both racing and transport. It also was crafted to look like the full-size yachts of that period.
Mr. Clough's original model design was 50-inches long with 800 square inches of sail; hence, the name "Marblehead 50-800". Until today, these are the principal design measures that govern the development of modern M designs.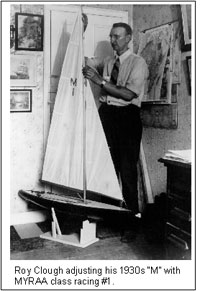 When introduced in the 1930 season at Redd's Pond, the M soon became the club's model of choice. It was soon widely recognized as the "right boat for the times", given its sailing qualities and the MMYC promotion of it in interclub racing. Coupled with its simple set of design rules, the M was adopted as a national class in 1932 after the MMYC joined the Model Yacht Racing Association of America (MYRAA). This was followed by international class status in 1937.
Of note, the club first conceived interclub model racing and offered the MMYC Perpetual Challenge Cup for this initial M Class competition in the US. This first series of interclub races was held August 1932 at Redd's Pond, with MMYC's Frank Courtis and his "Cypher" M winning this trophy. Also, model yachting was a demonstration sport at the 1936 Olympics in Germany, where the M was one of two classes of models raced.
Thus, Roy Clough's original model concept, launched at Redd's Pond and named for the Town, became the world standard known today as the M 50-800 design or more commonly the M Class.